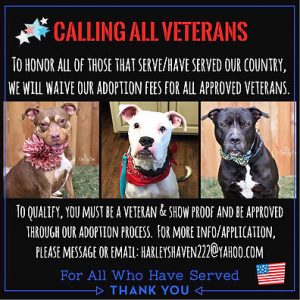 Are you an active service member or a Veteran and are looking to adopt a dog? We would be honored to waive our adoption fee as a little token off our appreciation for your service to our country.
To qualify, you must be able to show proof of active service or a honorable discharge (DD-214). Our normal adoption process criteria does still apply.
Click HERE to learn more about our adoption process.
Meet some of our past adoptions through our #PupsForVets program!