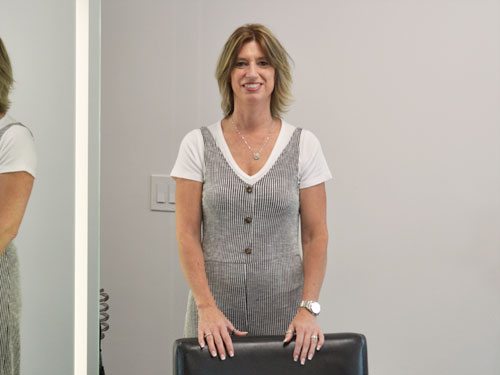 Laura
People ask what it's like to be a hair studio stylist & owner all the time. I tell them that each day is another great opportunity and chance to explore and make wonderful changes in people's lives. It's rewarding because I get to do just that – through hairstyling! To see a client leave with a smile makes each day a blessing and reminds me of why I began this journey in the first place. Since my graduation from Upper Bucks Votec School of Cosmetology, I have had many experiences that I would never have otherwise, had I chosen another career. To stay sharp and on top of latest hair techniques, I am always continuing my education. BIG dog lover – I support our local Pennridge area Pups for Vets program #PupsForVets. See: [LINK] Providing adoptions for so many dogs in need and owners searching means a lot to me!
Favorite color: Red
Pastime: Beach/sunny days & dogs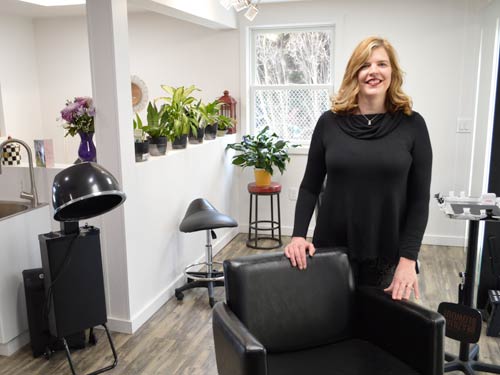 Sharon
I've been doing hair in the industry for over 28 years, and I must say, each day opens new horizons! I graduated from Western Montgomery Votech and am still surprised about how many new things I learn at each hair expo we attend. Needless to say, attending shows, talking with other professionals in our field, and learning from master hairstylists is so much fun. Continuing education this way keeps us engaged and inspired with new ways of approaching hair in this ever changing industry. Coming in to work and doing my job each day is great!! I enjoy making clients feel so good about their image using all the latest styling tools and trends of the hair industry.
Favorite color: Teal
Pastime: Gardening and dogs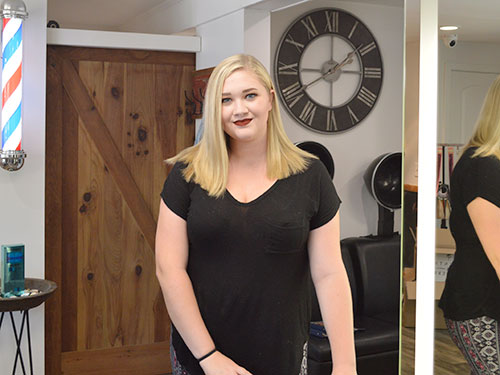 Shelby
I am an energetic hair stylist here at Hair Studio 1208. I absolutely love to do hair color, updos, and Lasio treatments. When I'm not at work I enjoy playing with my dog, hanging out with friends, and watching movies.
Favorite color: Purple
Pastime: Playing with her dogs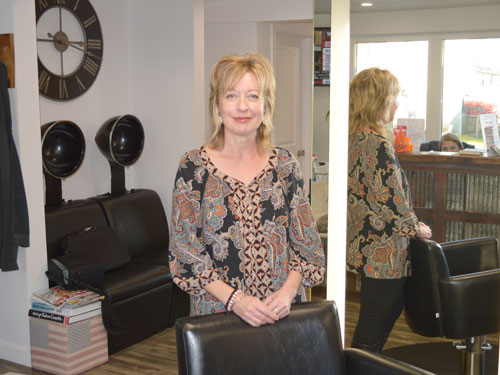 Diane
Went to school at Palisades, then went on to Upper Bucks VoTec. Living in the Quakertown area all my life has been very rewarding. Enjoying 36 years of fine hair cutting experiences, and still nothing gets boring! They say when you choose a job you love, and you will never have to work a day in your life. Some favorite parts of my job are doing: color, highlights and perms, up-dos, waxings, among other skills. Outside of my haircutting career, I love taking care of my cat, Sparky, and doing gardening in my yard.
Favorite color: Green
Pastime: Love to bake, and spend time with my family!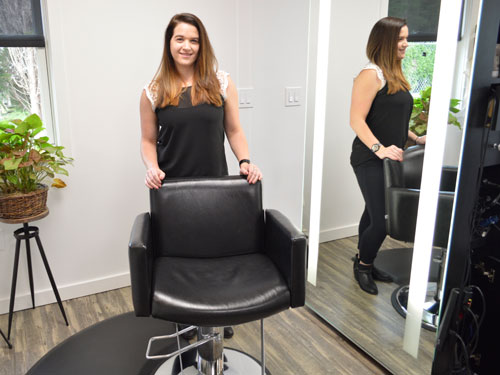 Kimberly
I grew up not too far from Quakertown. The Lansdale and Hatfield area was my home for many years, and moved recently to this area. I've had a great career so far, learning many hair-styling techniques over the last 11 years. I went to school at North Penn, and graduated from MontCo VoTech. I am so glad to have joined a great team of stylists at HairStudio 1208. When not at work, my dog Harley keeps me busy, taking hare of him, feeding him, and taking him for walks. Some of my specialties are Men's haircuts, styling, and haircutting in general. Always enjoying the holidays, Christmas, and 4th of July as my favorite times of the year. For vacations, you'll usually find me at the beach!
Favorite color: Purple
Pastime: Loves participating in Roller Derby competitions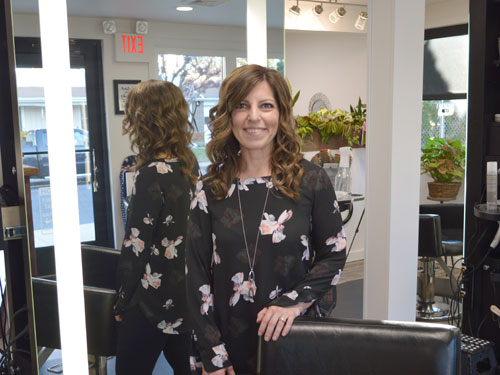 Jenn
Another talented hair stylist hailing from the Quakertown area, Jenn's growing client list has got many heads turning! A graduate of Palisades and Upper Bucks Vo Tech, she has 22 years experience, plus 3 in shampoo. She's skilled with updo's, weddings & proms too! Being a mom and spending time with her 3 kids has been the most rewarding aspect of her life. When she's not working, she loves baking and taking care of her pets, which include a chocolate lab (her 4th child), 2 cats, a chinchilla, and a tortoise!
Favorite Color: Red
Pastime: Baking and Family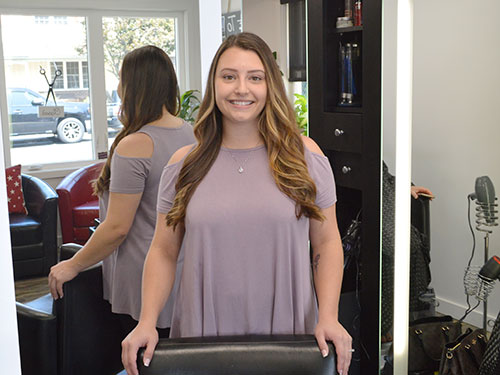 Ashley
Ashley grew up in Quakertown and graduated from Quakertown Community High School. As a graduate from Metro Beauty Academy in 2014, Ashley specializes in hair coloring, cutting and styling. She loves keeping up with new techniques and trends to stay current. She is also certified in Lasio keratin treatments. In her free time, she enjoys spending time with her family, her dogs, and camping!
Favorite Color: Rose Gold
Pastime: Family and Camping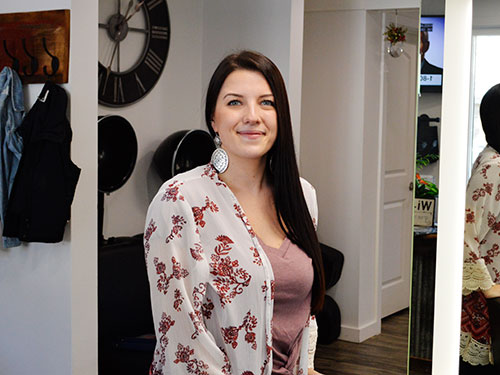 Brittany
My name is Brittany, I've been doing hair for a little over 5 years now and I'm continously educating and researching this industry to perfect my craft. Color is my magic, I love to hear about my clients hair dreams and goals so I can assist them in achieving so. The Lasio Keratin treatment is another one of my favorite services to perform because of the instant gratification from both myself and my clients with the results. Ultimately I love creating a bond with each and every one of my clients and I cant wait to see you at 1208.
Favorite Color: Hunter Green
Pastime: Anything Outdoors